See on Scoop.it – Interesting Innovation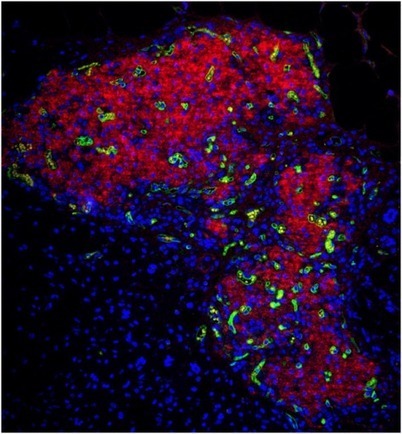 Immunostained image of engrafted islet in hydrogel in diabetic mouse. (Red areas are insulin-producing cells. Green areas are blood vessels, and blue areas are
–
Georgia Tech engineers and Emory University clinicians have successfully transplanted insulin-producing cells into a diabetic mouse model, reversing diabetic symptoms in the animal in as little as 10 days.
It could help lead to a possible cure for Type 1 diabetes.
The research team engineered a biomaterial to protect the cluster of insulin-producing cells — donor pancreatic islets — during injection. To foster blood vessel formation, the material also contains proteins that allow the cells to successfully graft, survive and function within the body.
The hydrogel material is compatible with biological tissues that is a promising therapeutic delivery vehicle. This water-swollen, cross-linked polymer surrounds the insulin-producing cells and protects them during injection.
The hydrogel containing the islets was delivered to a new injection site on the outside of the small intestine, thus avoiding direct injection into the blood stream.
See on www.kurzweilai.net