See on Scoop.it – Stem cell news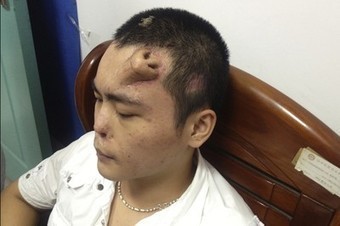 A nose growing from a forehead. An ear sprouting on an arm. These startling images represent a revolutionary approach to surgical reconstruction.
–
Images of a nose implanted on a man's forehead have been all over the Internet, like ads for some creepy horror film you probably don't want to see. Almost as jarring are pictures of an ear protruding from a woman's inner arm.
They're not from some horror movie—they're real science. The nose-on-the-forehead photo depicts a nose repair in progress in China. The photo of the ear on an arm was published in the September 19 issue of the New England Journal of Medicine. Such surgeries are examples of new approaches to standard reconstructive techniques that may cost patients a few months of psychological discomfort but will eventually allow their facial features to be repaired.
Patrick Byrne, director of facial plastic and reconstructive surgery at Johns Hopkins Health Care and Surgery Center in Green Spring Station, Maryland, believes his innovative ear reconstruction pictured in the NEJM was one of the first performed in the world. Growing noses on foreheads or ears on arms before transplanting them to the conventional locations is based on surgical reconstruction techniques going back hundreds of years. But modern-day applications are truly revolutionary, as Byrne explained in an interview with National Geographic News.
See on news.nationalgeographic.com